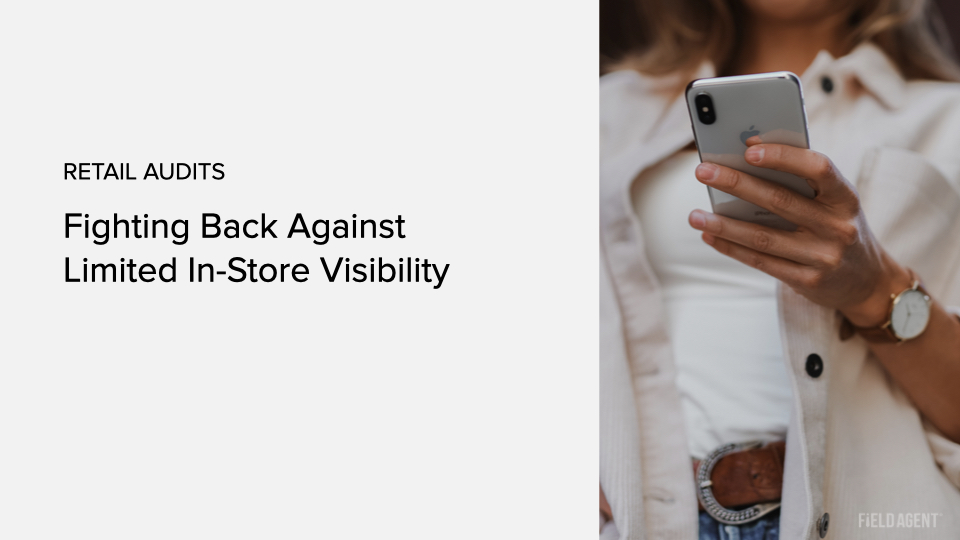 Retail Audits: Fighting Back Against Limited In-Store Visibility
Black Friday sales have already begun. Christmas is only 38 days away. Stores are full of people looking for the next item to check off their list. Will your product stand out? Will it even be on shelf?
Find out for sure with Field Agent's Retail Audits, which reduce the distance between vendors and their in-store products and promotions.
Whether you're concerned about displays, signage, out-of-stocks, competition, compliance, demo quality, or other potential in-store problems, mobile audits are the fast, affordable, and far-reaching way to not only be "in the know," but to make sure what you think you know is accurate.
Field Agent's Retail Audits harness the combined power of mobile technology (think smartphones) and crowdsourcing (think Uber) to empower vendors and other companies with the 3 I's of information, insights, and ideas.
By breaking up large, costly jobs into smaller, more efficient chunks (crowdsourcing), we complete our clients' requests far more quickly, far more affordably, and far more broadly than traditional auditing methods.
The implications are significant: Regardless of a company's size and budget, they can now afford to be in stores, with their products, practically anywhere in the country and anytime of day. And because we have over 200,000 smartphone-carrying auditors across the country, companies don't have to wait weeks for results. In fact, many of our mobile audits are completed in days or, in some cases, hours.
And there's no tradeoff with quality. Through a series of quality control checkpoints and smartphone-embedded tools (e.g., time-date stamping, GPS positioning), our clients can rest easy, knowing the data they receive is dependable and trustworthy.
There's still time to have your product display or shelf space audited to ensure it's ready and available to be added to the next Holiday Shopper's cart!
Contact us today to get started!