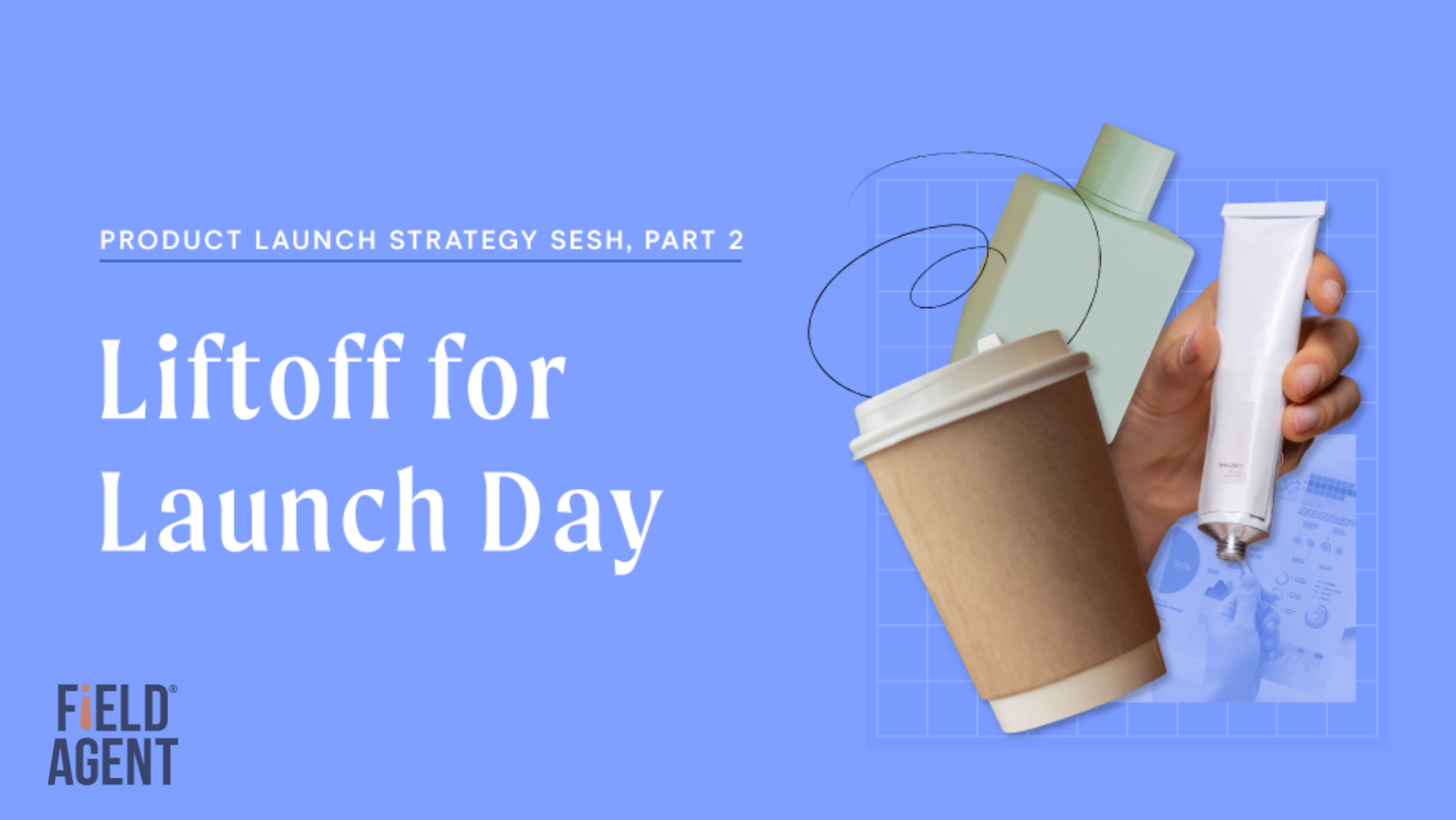 Product Launch Strategy Sesh, Part 2: Liftoff for Launch Day
In September 2022, NASA Artemis I was supposed to have its big Launch Day—sending the first U.S. rocket to the moon since 1972.
Key phrase? Supposed to.
Now hear us out, we're definitely not judging. And definitely not rocket scientists, either. But this does provide a great learning opportunity—right? Because like we all watched on CNN that morning, just because you have a plan in place, doesn't mean your launch will go off without a hitch.
For decades, NASA has conceptualized, designed, and tested the next shuttle to make it to the moon. NASA took nearly 50 years, and we're betting that you're pulling off your product launch in a matter of months.
Let us be your co-pilot as you navigate the challenges, uncertainties, and learning curves of your product's launch day.
We'll help you spot a few key differences in types of product launch, and take you through the countdown principles of a successful debut.
Can You Spot the Difference? Commencing Product Launch Mode.
In recent years, P&G, the new-product-launch-killin'-machine, launched two new SKUs: different on the outside, but essentially the same on the inside. We're talking about Dawn Powerwash (2019) and, more recently, Dawn EZ-Squeeze (2022). We know—rockets to dish soaps. Stick with us.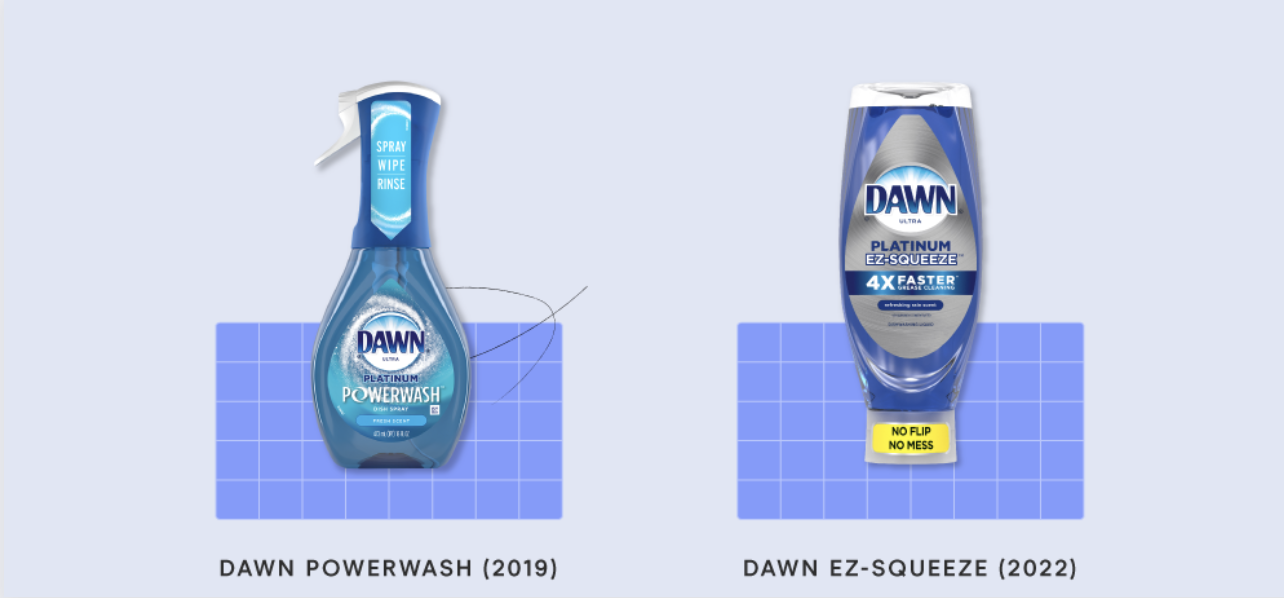 Together, these two products give us an interesting look at CPG "newness." Are these products actually "new"?
We think anyone could argue that neither one is actually new, since Dawn has been around since the year after that initial NASA rocket launch (It's okay, don't scroll up. It's 1973). Both of these soaps, though, provide value in "new ways."
At a very grass-dirt level: both products carry a different UPC code from Dawn's "original" dispenser, and give a new face on store shelves. So, by the CPG industry standard of "newness," a new barcode = a new CPG product—even if it's only a bigger or smaller size of an existing product.
There are different types of innovation among brands and their new products – with different levels of cost, risk, and investment.
All new products (more specifically, their level of innovation) fall somewhere on a scale from little ripples to massive waves of innovative breakthrough:

Line extensions are tiny variations on existing products. They still fall under the same brand name and basically deliver the same benefit (think: a smaller can of your fav seltzer versus the normal size).
Renovations are additions or subtractions to the build of existing products, in a way that creates a better value for consumers (like removing any added-sugar from the seltzer. Hi, summer bod).
Disruptive innovations are radical breakthroughs that disrupt entire categories and maybe even whole industries (the seltzer can now change flavors based on the temps outside – Sign us up).
Each type of innovation carries its own unique combo of risks, challenges, and rewards.
One analysis we found said that 61% of "new products" launched by major CPG companies weren't more than ripples in the CPG pond – like a new package or bringing back an old product.
Not surprisingly, extensions don't always fare well for incrementality (for more context on the 'i' word, go to part 1 of our series!) or, the scary potential of this new product's sales hurting your other ones. Of 25 high-profile CPG products launched in 2010, the majority of sales (63%) came from existing buyers.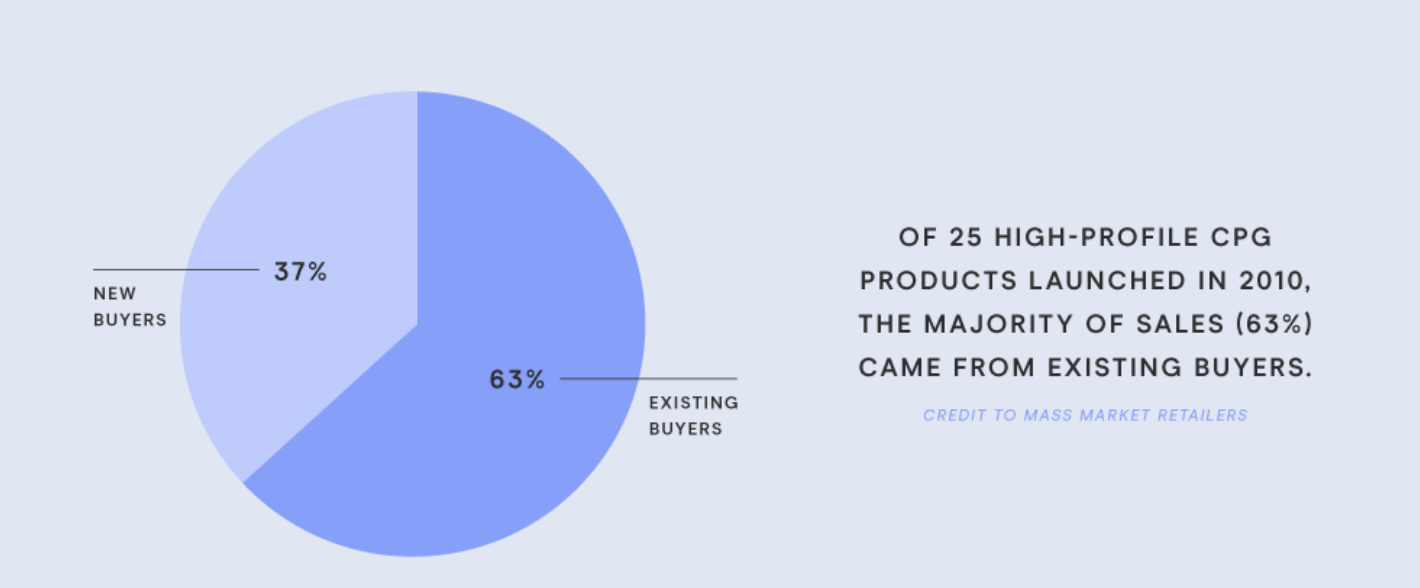 But, don't lose heart, there are benefits to low-risk brand extensions, like if your brand needs to move resources around or get a better rap with customers – which explains the extension's popularity.
"Consumer acceptance is greater," Gielens et al. said, "when the new CPG…is marketed as a brand extension, using a reputable brand name."
For the purposes of this blog, a new UPC = a new product. Why? Because all new UPCs – all new facings on-shelf – are uniquely at risk. Big retailers don't just reward new facings to brands without significant scrutiny and judgment—not with shelf-space as limited as it is today. In the words of queen Taylor Swift, 'Let's hear the applause. C'mon show me how much better you are.'
So, new products – whether a line extension or a disruptive innovation – face much more pressure to stay on-shelf, grow on-shelf, and grow the category all together.
New UPC code = new shelf-facing = many challenges unique to new products.
Key Launch Principles to Get You Off The Ground
The launch stage is all about execution.
You (and your buyer) have a plan, but don't assume it will go off without a hitch; make sure it does. In other words, now that you've planned your work, it's time to work your plan. Late nights, long meetings, too many phone calls? It all amounts to this big day. The world and your company is watching, and it's a brand's job to stay attentive and action-oriented in the launch phase.
Launch Countdown, 3: Take the fight to out-of-stocks
Everybody hates out-of-stocks (OOSs). Imagine that show on CBS instead of Raymond.
When it comes to items not being ready-to-buy, shoppers will jump ship and switch brands, retailers and buyers might swap OOS products with your competitor's that is in-stock, and brands will be at the mercy of it all.
With your precious, brand new product, there's so little room for error, especially with OOSs.
Shoppers can't buy, retailers can't sell, and brands can't get $$$ from, well, what isn't there.
Our partners at Field Agent US conducted a survey of 1,250 shoppers this past August and more than half (58%) said that an OOS would cause them to switch from their usual purchase to a new (but similar) product. There, there. We know it stings.
What really surprises some brands is how much control they have over out-of-stocks. Some CPG professionals are shocked to learn that product availability – and the fight against out-of-stocks – is more than a "wait, see, hope."
First off, analytics programs and auditing solutions have evolved to the point that brands can know with confidence what shelves actually look like. And if you can quickly spot OOSs, you can fix OOSs – before they make too deep a cut into your new product's 90-day make-or-break period.
Auditing photos can help brands "make the case" with retail buyers. "Hey, [insert your buyer here], it may look like the new product isn't selling, but, as you can see in this store, this store, and this store, shelves are bare because inventory is sitting in the back room." Boom roasted.
Some more tea? Merchandising services have continued to make major moves, making it possible for even smaller or cash-strapped brands to get more control over on-shelf availability. What a coincidence, Field Agent's On-Shelf Availability product (provided by yours truly) can be launched in a single store starting at just $13 per response.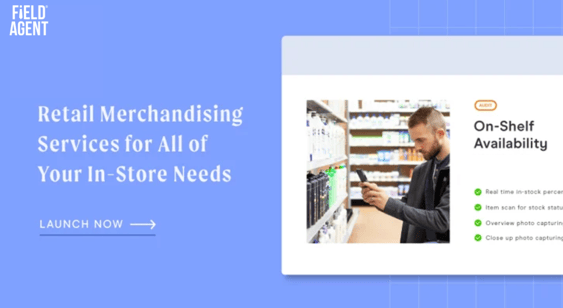 As part of the solution, merchandisers will not only look for OOSs, but they'll even replenish the shelf if and when they're spotted. They can also have a little, …friendly chat with the store manager.
And lastly, in our omnichannel age, new products also have to be aware of purchases made online for local pickup or delivery.
Oh, you want an example? You don't have to ask us twice. Selling on Walmart.ca is, in some ways, like selling on 4,700 different ecommerce sites. Why? Because OOSs, prices, and even, yep, listings themselves, change from one Walmart store to another.
This seriously matters in the OPD world because retailers show out-of-stocks online before they show OOSs in-store. Read that sentence again. In other words? OPD retailers are forced to predict product availability online, and do so more strictly than they do in-store.
The moral of our story: OOSs will sink your new product if unmonitored and unfixed. Fortunately for you, dear reader, monitoring and fixing is easier than ever.
Launch Countdown, 2: Make sure the price is right
"A fortune in fabulous prizes may go to these people today if they know when The Price! Is! Right!"
The Price is Right also began in 1972. What an era.
A favourite game show, rocket launches, and your upcoming product launch are all tied to this concept: get the price right—the first time.
Let's talk about My Brother's Salsa... Ashley Pointer, CEO of MBS, began to wonder whether stores were marking her SKUs with the correct promotional prices. So, she conducted a 200-store audit, and discovered some eyebrow-raising surprises:
Her products were marked with the correct prices in only 39% of audited stores. People, that's less than half.
Plus, 15% of stores weren't carrying MBS at all – and were supposed to be!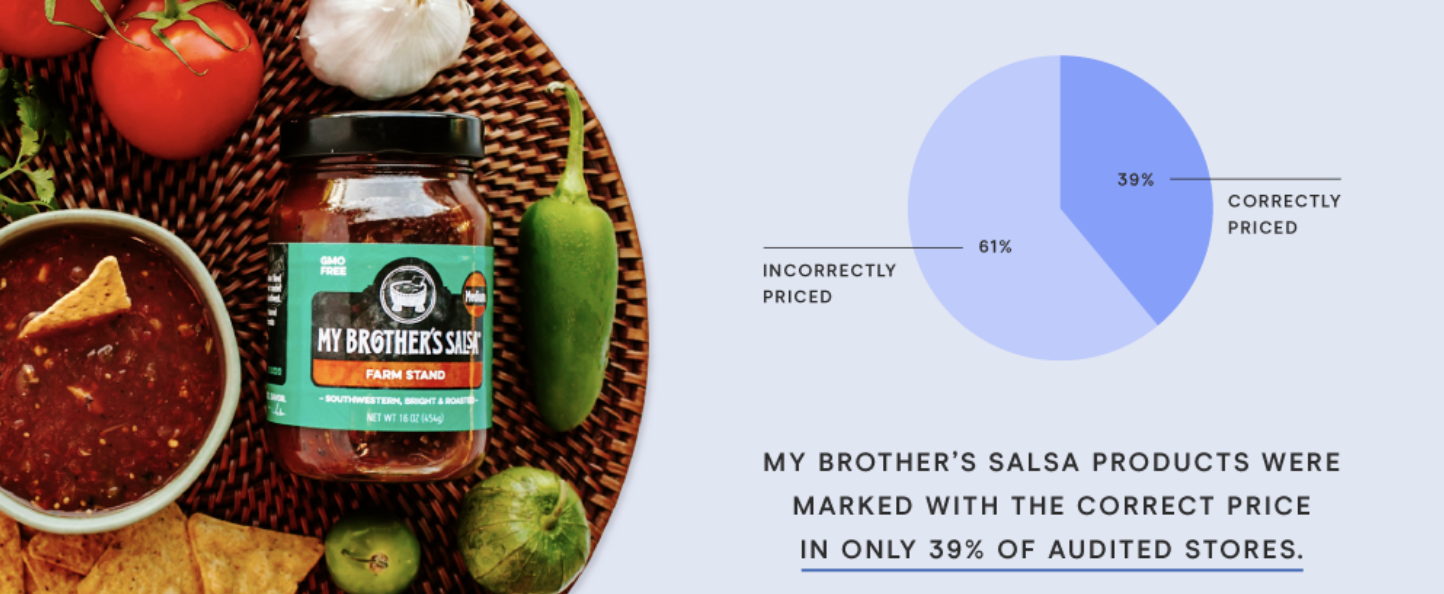 This really happened—and it happens more often that you might know.
But, it can't happen during a pivotal time like product launch. It just can't. Price is too big a factor when shoppers are making their purchasing choices.
You might be thinking, "But that's on the retailer." Um, exactly!
If there was an unspoken rule in CPG retail, it's this: "No matter whose responsibility it is, it's always the brand's responsibility to provide accountability." For the simple, hard-to-hear reason that no one is more invested in the success of your new products than, well, you. And if you don't watch over prices, OOSs, and the like during the all-critical 3, 2, 1...launch period – who will?
The buyer? Maybe, but let's be real. Probs not.
Better to audit prices and price tags in stores (and across the sea of iPhones) throughout the launch and post-launch period so you can make sure the price is right when it matters most.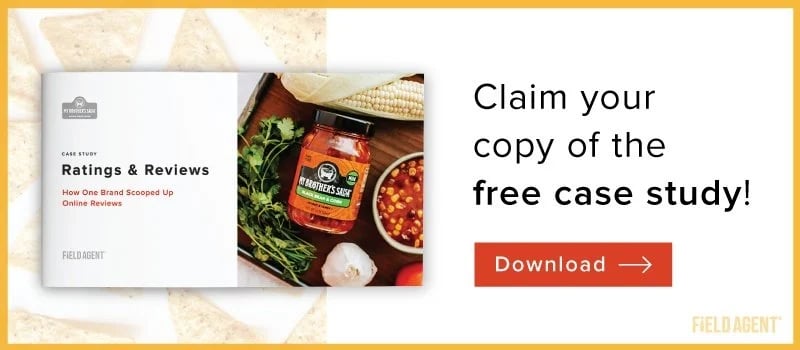 Launch Countdown, 1: Read the signs (and displays) in-store
Shopper marketing works.
Research tells us so. And we know enough to be dangerous. Fill up your coffee, big stretch. You can do this with us.
Based on a study of new product launches in the U.K., across 21 different CPG categories, "When it comes to [new product] success…the lower-funnel marketing actions targeting shoppers directly at the point-of-purchase ultimately decide your fate." Sounds like Disney, but it's true.
We're definitely not suggesting that shopper marketing is more important than what makes your product stand out, or even price necessarily (and not to mention being in-stock), but store-level marketing is often the factor that distinguishes successful new products from the discontinued ones.
Things like displays and signage can "ultimately decide your fate." Remember that study from Field Agent that we talked about? A third of respondents said in-store displays/signage were "extremely" or "very" effective at persuading them to try a new product, and 81% said at least moderately effective.
Retailers ultimately call the shots on what displays run in their stores, but Gielens et al. insist brands are "not powerless," and that they "should work ever harder to collaborate with retailers and push the store specific shopper-marketing instruments in a favorable direction."
Of course, that's advice from the pre-launch phase. (Want a refresher?) But there's another lever brands should pull in the launch phase – and in the days that follow: Make sure that shopper marketing is properly executed inside stores!
Let's leave nothing to chance. MIA displays and signage are much more common than a lot of brands realize.
We've found that 33% (1 in 3!) displays were not found inside stores – where they were supposed to be, doing what they were supposed to do: drive sales.
And when your "fate" as a new product is on the line, this is asking for trouble.
In summary? Don't blindly navigate the uber-critical launch day not knowing whether the retailers are executing plans according to your agreement.
Launch Countdown, 0: Keep your eye on the prize… ahem, category
Let's switch up our lens for a second. We know during the launch phase, out-of-stocks, price tags, and shopper marketing deserve our eyes.
But, as the old saying goes, be careful not to miss the forest for the trees. Anyone else hear their grandpa's voice in their head?
If you're so focused on those "trees" (aka stock levels, prices, displays) that you lose sight of the "forest" (the larger category), you might be running unnecessary risks. No bueno.
During the after-launch-sprint to success, can you answer with Demi-Lovato-confidence:
How has in-store promotional activity changed? Any new displays?
Any new products on-shelf or on-display? Any removed?
Have prices in the category fluctuated at all?
Any products vulnerable to out-of-stocks?
This is where your focus can shift from your products to your competitor's, too.
But don't forget to keep watch for your online category as well. Know what's happening there, too – and reap those benefits. If you know what's happening online/OPD with your category, you can shift around your ad spend to make the biggest possible impact for your new product.
Here's a quick snapshot: if you're running low on inventory on Amazon, but you have overflowing inventory on Walmart.ca – shift your ad spend there. And, avoid the penalties of running OOS on Amazon. There's also a competitive stance here: If you see a rival product running low on Amazon, you can direct more ad spend there – being more aggressive where your competition has to tread carefully.
See, friends?
We have liftoff.
It benefits brands to know the category. In-store and online. Find solutions that you can launch today to get insights for your big launch day.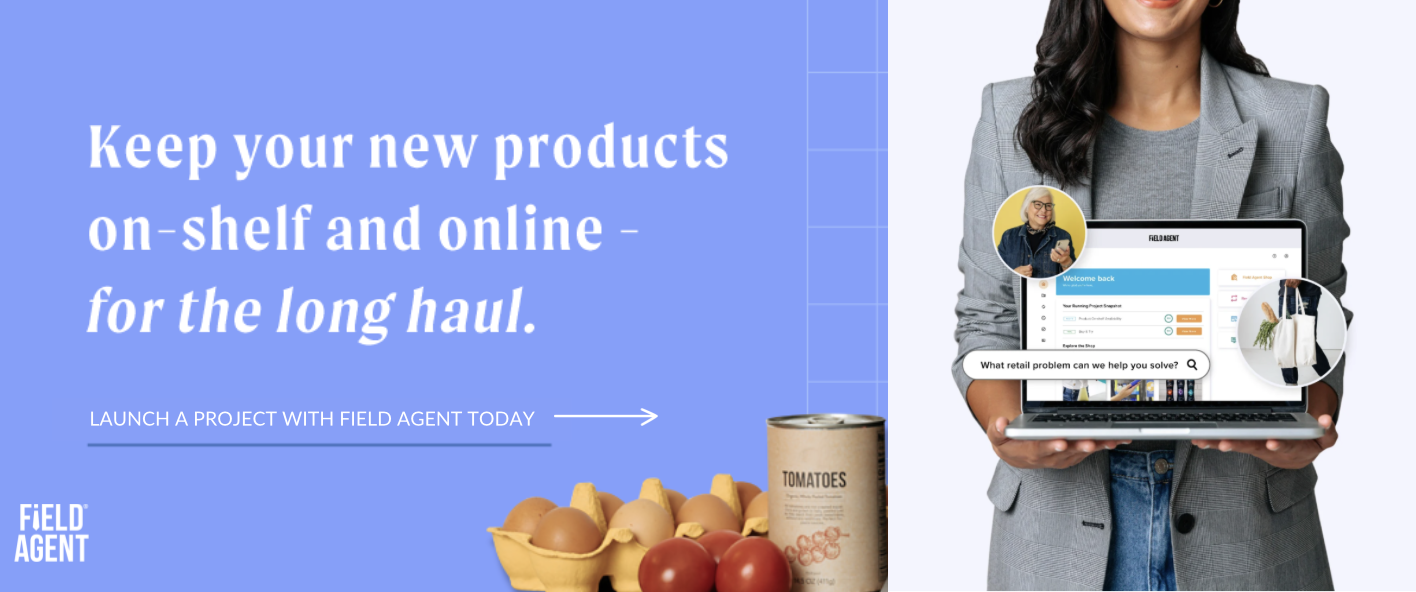 Mobile Research, Mystery Shopping, Insights Report, Mobile Audits