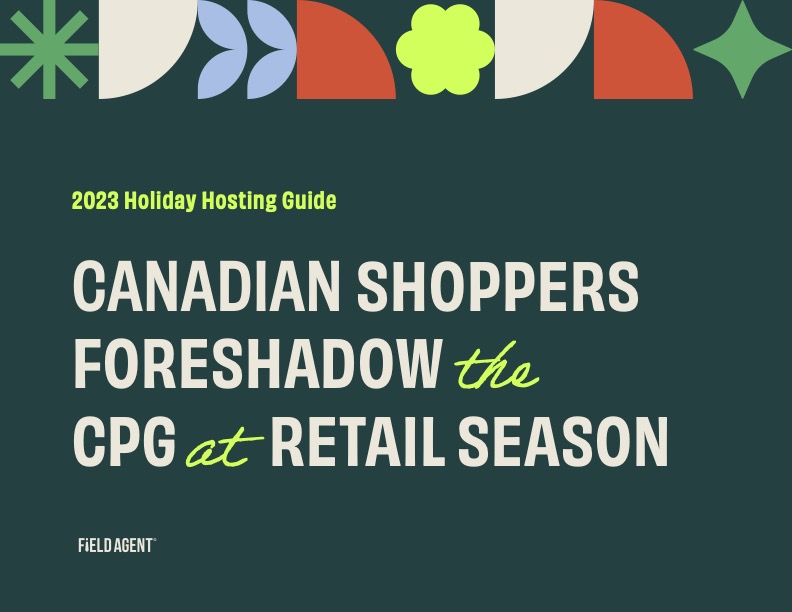 2023 Holiday Hosting Guide: Shoppers Foreshadow the CPG Retail Season
As the calendar approaches the holiday season once again, the CPG retail industry finds itself navigating some uncharted waters. The 2023 holiday season is an enigma, defying forecasts and expectations that experts have used in years past.
Deloitte says Canadians plan to spend less.
The Retail Council of Canada says Canadians plan to spend more.
So, we asked the true experts of the 2023 retail season: the shoppers themselves.
In this updated guide, we'll dive into the complexities of this year's holiday landscape— pinpointing on the factors that will influence consumer behavior and offering insights for CPG professionals to make the most of the season's uncertain outcomes.
With 33 pages of best practices, authentic research, and data-driven insights, our 2023 holiday report is the ideal companion for CPG professionals.

Claim your free copy below.
Our free guide drills down into specific categories that are central to the 2023 holiday season. These categories include:
Foods and Beverages: Examining how culinary preferences and the desire to impress guests are driving spending in this category.


Cleaning Supplies and Household Paper Goods: Analyzing the importance of cleanliness and preparation for hosting guests during the holiday season.


Decoration and Furnishings: Exploring the trends in decorating and the purchase of furnishings as homeowners seek to create a festive ambiance.

If you have questions along the way, we invite you to reach out to our Field Agent team to learn more. Welcome to the 2023 holiday season—a season defined by its unpredictability and endless possibilities.