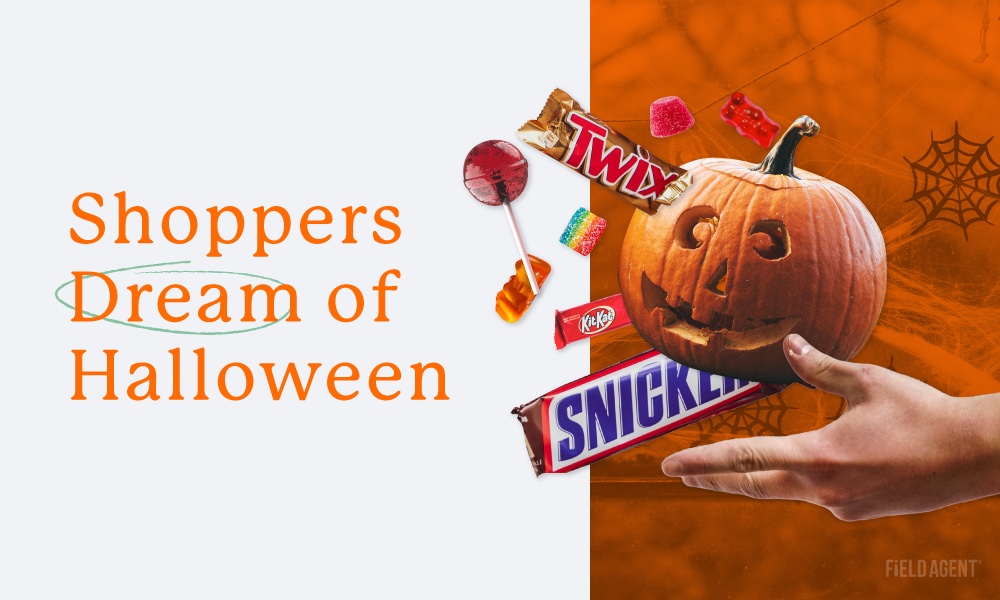 Shoppers Dream of Halloween: Top Candy and Costumes for 2022
In the dog days of summer, pumpkin patches, corn mazes, and chilly nights are typically the last things on most people's minds.
But if your brand depends on autumn sales (looking at you, pumpkin-spice-mongers), you're hard at work preparing your products, your planograms, and your promotional materials for the sweater weather season.
Halloween, a major Fall holiday, is a make-or-break event for many brands. And making decisions without considering the shopper's perspective is... a gamble.
That's why we surveyed 1,717 Halloween-observing households about their plans for the spooky season, specifically around two key areas: candy and costumes.
Let's see what kids (and their parents) are dreaming of for Halloween.
Top 10 Candy Brands Parents are Buying This Year
We talk like Halloween is about ghosts and goblins, but every kid knows the spooky stuff is just the means to an end: candy.
In the words of one industry insider, Halloween is "the Super Bowl" for candy brands.
According to our Field Agent survey, 83% of households plan to distribute candy to trick-or-treaters this year. We asked these households about their plans for Halloween sweets.
Top Favored Candy Brands
What candy will fill jack-o'-lantern pails this Halloween? Let's ask the adults who pass out the goods what sweets they're likely to buy.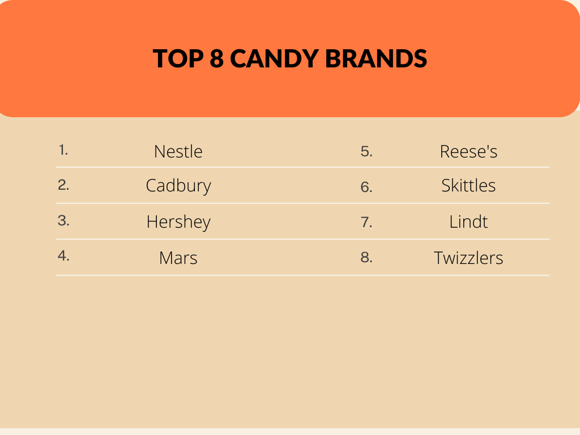 Popular choices for candy-purchasers include Nestle and Cadbury—hopefully they'll get the big bars.
Good news: When we surveyed the kids on their #1 choice for Halloween candy the majority of them simply said "Chocolate".
Where are shoppers likely to purchase candy?
As the full moon transforms the werewolf, Halloween transforms stores into a sprawl of spooky decorations, costumes, and seasonal treats. For these retailers, where shoppers buy their candy is just as important as what they buy.
When questioned about how they plan to buy their candy this year, 80% of candy purchasers said they would buy at least some goodies in-store, and 8% said they would likely use an online or in-app order to pick up candy from their favourite retailer.
In stores, few holidays inspire product displays as creative and bright as Halloween displays. And it pays to invest in displays: 68% of shoppers say displays are at least moderately influential in their purchasing decisions.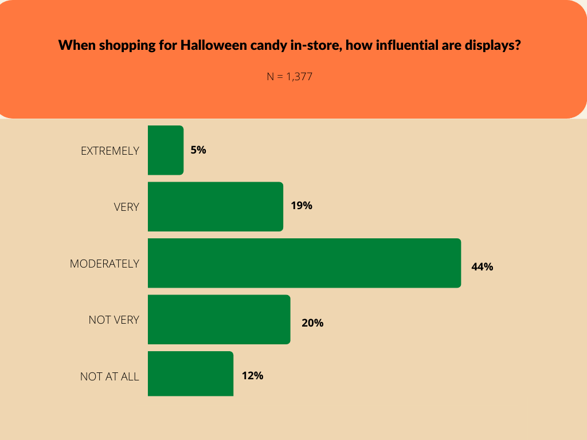 Struggling to ensure display execution? We can help.
Top 8 Most Popular Halloween Costume Ideas of 2022
Even if your family doesn't hang cobwebs on the house or inflate a 16-foot skeleton on the lawn, there are two minimum requirements to celebrate Halloween. #1: give away and/or scarf down candy, and #2: wear a costume.
Whether your choice is an elaborate $10,000 cosplay extravaganza, or an old bedsheet with eye-holes cut out, dressing up is half of the fun of trick-or-treating.
In days gone by, most costumes were home-made affairs. But nowadays, Halloween costumes colonize vast regions of stores across the country every fall, selling endless options for kids and adults looking to leave behind their secret identities for a night. 46% of Halloween-celebrating parents surveyed plan to purchase a costume for at least one kid, while 16% will make the outfits themselves.
What do kids want to dress up as for Halloween?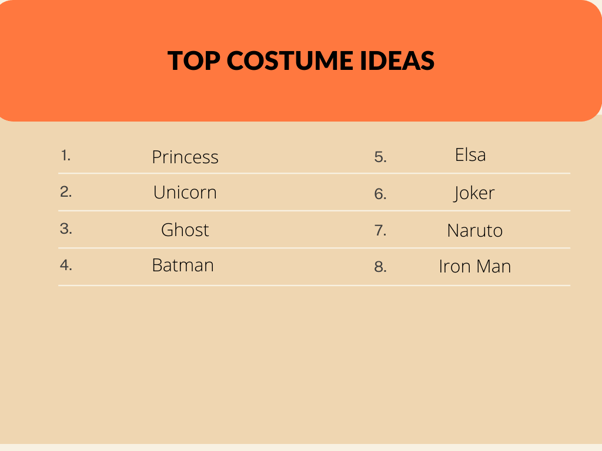 The classic princess was far and away the most popular choice by children surveyed. And who wouldn't want to be royalty for a day? Come Halloween night, leagues of Batman and Iron Man will have their hands full defending civilians from roving gangs of Ghosts and Jokers.
Honorable mentions include these far less popular (but still excellent) choices submitted by young'ns: A Hotdog, an Elf Ghost, and a Sriracha Bottle. They have our respect.
Where are they buying those costumes?
With costumes, as with candy, location is everything for retailers. Where are shoppers planning to purchase their costumes and accessories?
Of the respondents who plan to buy their costumes, 66% will shop in their usual stores (ie: Walmart) and 50% will go to a pop-up Halloween store.
But online shopping is also a popular option. Over half of shoppers surveyed (54%) say they'll pick up part of their outfit on Amazon or a similar online retailer.
Shopping for a Halloween getup online can be a risky game – it's hard to judge quality and fit when you're not holding it in your hands. That's why 83% of online costume shoppers say ratings and reviews are at least substantially influential to their purchasing decisions.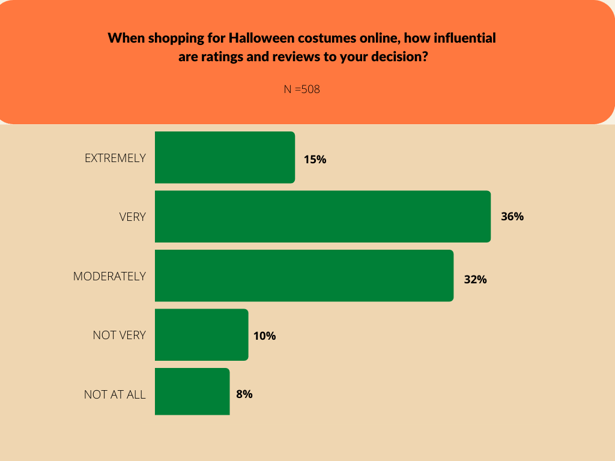 Similarly, online product-page photography is crucial to the shopper. Otherwise, how could they know how spooky that mummy outfit really is? 74% of online costume-buyers said that photos of the costume on a real person were more effective than pictures of the outfit on its own (11%) or on a mannequin (16%).
Learn how to boost online reviews.
Will inflation scare Halloween shoppers?
Lurking behind these Halloween dreams is something spookier than goblins and ghouls: inflation (and we don't mean lawn decorations). As the economy changes, shoppers are watching their wallets. We don't have a crystal ball, but asked our respondents to comment on how inflation might affect their Halloween plans.
I'll have to search for good value. Best bang for my buck deals. Or I'll have to give less candy out and will run out sooner than normal. - Allester A, Ontario

We will not be buying many decorations or costumes, mostly thrifting and crafting what I can and buying 1 or 2 items new. – Courtney P., Alberta

Everyone is hurting for money and the price of everything keeps going up but we enjoy making the kids have a good time. So it won't affect what we buy, we will still buy and give out a lot. It's worth it for the smiles –Eden E., New Brunswick
Don't get spooked. Get answers.
Whether you need insights in-store, effective and affordable merchandising, or help getting a new product off the ground, there's a Field Agent solution for every retail challenge.
Click below to learn more.